Arizona state records and public information is available thanks to a law that was created in 1901. The Arizona Public Records Law makes searching for public records in Arizona easy, but users must know how to search each database.1
Or, with one click, public information about anyone in AZ can be located using a tool that compiles all the data from various sources.
The free search option works well, but users may also search Arizona agencies, courts, and law enforcement websites to find free Arizona public information.
State Records in Arizona
The Arizona Public Records Law allows the general public to request records like photographs, documents, maps, and other formats. In 2009, the case Lake v. City of Phoenix stated that electronic data counts as public records, too.2
Nevertheless, those requesting public records to use for sales-related reasons have to be open about their agendas. Plus, information associated with donor records, student records, and trade secrets is confidential.3
Are Arizona Criminal Records Public?
Criminal records are public Arizona state records thanks to the Arizona Revised Statute § 41-1750. However, criminal records in the possession of the AZDPS (Arizona Department of Public Safety) aren't accessible by just anyone. The only individuals who can request these records are the person on the record, law enforcement, judicial personnel, and prospective employers.4
How to Search Arizona Criminal Records
Those needing to obtain their criminal history records can retrieve them through the AZDPS Central State Repository. They need to do the following depending on their personal circumstances:
Local Clearance: People have to contact their local sheriff's office or police department for this service.
Clearance Letter: Because Arizona law forbids the state's criminal history repository from providing clearance letters or conducting criminal records checks to meet foreign adoption or visa requirements, individuals have to dial 602-223-2222 to reach the Criminal History Records division for that purpose.
Fingerprint Clearance Card: Someone needs to call 602-223-2279 to reach the Applicant Clearance Card division if it's mandatory for employment at a certain agency or company.
National Criminal History Clearance or Check: Individuals living outside of Arizona should visit the FBI's Identity History Check page and follow its instructions.
Personal Criminal History Record Review: Residents need to contact the Criminal History Records division by dialing 602-223-2222 to get a Record Review Packet. The Record Review Packet includes these items:
It's highly recommended that people print out the packet checklist and FAQ form to ensure they have everything they need before sending the required documents.
Those associated with Arizona non-criminal justice agencies are required to apply for NCJCP (Non-Criminal Justice Compliance Program) before retrieving Central State Repository criminal history details.
How to Obtain an Arizona Background Check Online
Conducting a background check is another way to retrieve criminal history records. However, someone's criminal history isn't the only thing that shows up on a background check. What comes up in typical background screens includes a person's driver history, any aliases, and past and current addresses.
Though background checks are required for most jobs, they're mandatory for concealed weapon ownership as well. A person can get this through the AZDPS' Concealed Weapons and Permits page.
Arizona residents who want to get a new concealed-carry permit, renew a permit, or replace a permit need to apply and pay $60.00, $43.00, and $10.00 respectively. Those seeking LEOSA (Law Enforcement Officers Safety Act) certification have to submit an application and a $20.00 payment. (LEOSA instructors are required to submit an application and a change notice if needed. There's no fee for instructors.)
In addition, people employed in the security guard or private investigation industries have to apply for or renew their licenses. They can visit the Public Service Portal to address application or renewal requirements.
Additionally, individuals can obtain criminal history records from sources like Arizona court systems and offender searches, which are covered later in this guide.
How to Lookup Arizona Arrest Records for Free
If someone wants to find another person's AZ arrest records and associated criminal records, there are a few free and paid ways they can use to get them.
The AZDPS offers State Trooper arrest and incident reports for the general public through its PRU (Public Records Unit). Videos, photographs, digital documents, and paper are the formats available. The fees vary depending on the medium a customer orders.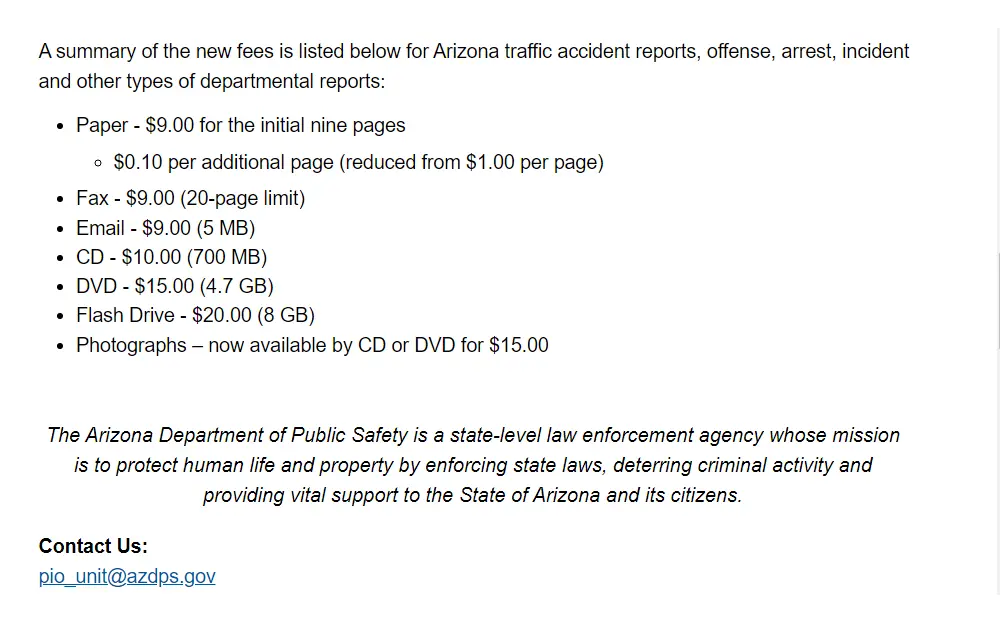 There are four ways a person can request them including fax, online, mail, and in-person:
Fax: People can send a request to the number 602-223-2945.Online: Residents have to create an account at the Public Services Portal before ordering.
Mail: Requests can be mailed to this address: AZDPS, Attn. Public Records Unit, MD3240, PO Box 6638, Phoenix, AZ 85005.
In-person: Patrons can visit its on-site location: AZDPS, PSC, 2222 W. Encanto Boulevard, Phoenix, AZ 85009.
Before placing an order, requesters have to call the AZDPS Public Records Unit at (602)223-2345 to make an appointment.
Nonetheless, this public information on Arizona arrest records is DPS-related only. Therefore, if someone needs to obtain arrest records from other counties, they'll need to perform a search through Google, Yahoo, or Bing.
They can type "Arizona arrest blotter" and receive links to lookup tools and arrest reports from several police departments and sheriff's offices. For example, the UAPD (University of Arizona Police Department) keeps a daily activity log of arrests and incidents. This should greatly help college students and other residents near the campus.
How to Search for Mugshots in Arizona
It's not only important to see an arrest record; residents need to know what suspects look like, too. They can easily do this by typing "Arizona mugshot" into any search engine and selecting their closest police department or sheriff's office. To illustrate, the Pinal County Sheriff's Office public mugshot page shows arrestees' names, photos, booking numbers, and crime descriptions.
Locals can also consider offline methods like TV news or favorite newspapers. These options are ideal for those who have limited Web access.
Conducting a Free Warrant Search in Arizona
Those unsure of any potential arrest or bench warrants need to check them out as soon as possible so they can address them before getting a surprise visit from law enforcement. By entering "AZ warrant search" into a search bar of Bing or Google, they get results from several courts and police websites.
If someone's looking for arrest warrants, they can check a site like the Maricopa County Sheriff's Office. Its warrant lookup feature permits users to find a warrant by name, zip code, agency, and city. A thorough description of how to find warrant information, arrests, probation information, criminal case proceedings, and more is provided in our resource that covers the most reliable methods of finding publicly available records in Maricopa County, Arizona for free.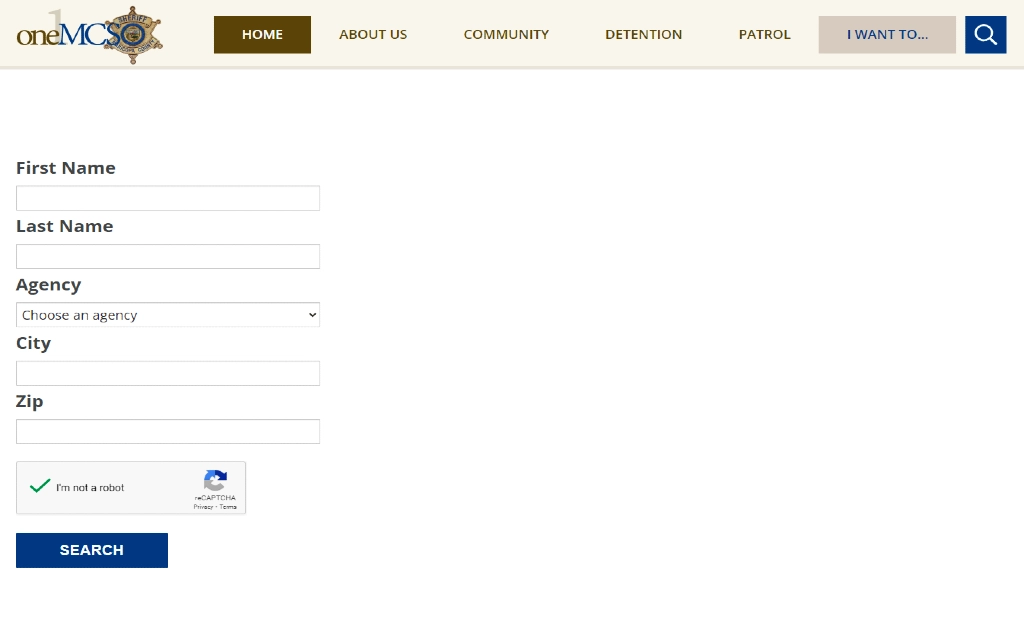 Mohave County Superior Court's active warrant page is an example of where residents can look for bench warrants. They only need to type a first or last name to get names, warrant dates, court locations, and more.
Arizona Public Court Records (Free Arizona Marriage Records Search)
Arizona court records typically contain docket information, the parties involved in a lawsuit, and transcripts of court trials. Most court records are public Arizona state records save for sealed documents.
Four levels of courts encompass the Arizona Judicial Branch:
The Limited Jurisdiction Courts are made up of municipal/city courts and justice courts. The municipal courts work with cases related to traffic violations, and the justice courts handle cases involving small claims, evictions, and limited civil matters.
The General Jurisdiction Court is governed by the Superior Court. It deals with family, probate, misdemeanor, and felony lawsuits.
The Appellate Courts preside over Superior Court retrials.
The Supreme Court looks over Petitions for Reviews to see if cases qualify for Supreme Court hearings. It's based in Phoenix.
How to Obtain Arizona Court Records & Search by Case (Find Free Arizona Divorce Records)
A person interested in obtaining court records can retrieve them via online and offline methods. For instance, the Arizona Judicial Branch provides two online case search portals: eAccess and the Public Access Case Lookup tool.
The eAccess site stores documents from Superior Court civil and criminal trials. The Public Access website holds information from all counties except for Pima County and Maricopa County. (It also doesn't store cases from the Court of Appeals or the Supreme Court.)
Lawyers, the media, government personnel, plaintiffs/defendants, and the general public can sign up for an eAccess account. It requires a subscription, and there are many subscription plans people can choose from. (Government agencies are exempt from subscription fees.)
The Public Access site doesn't require registration.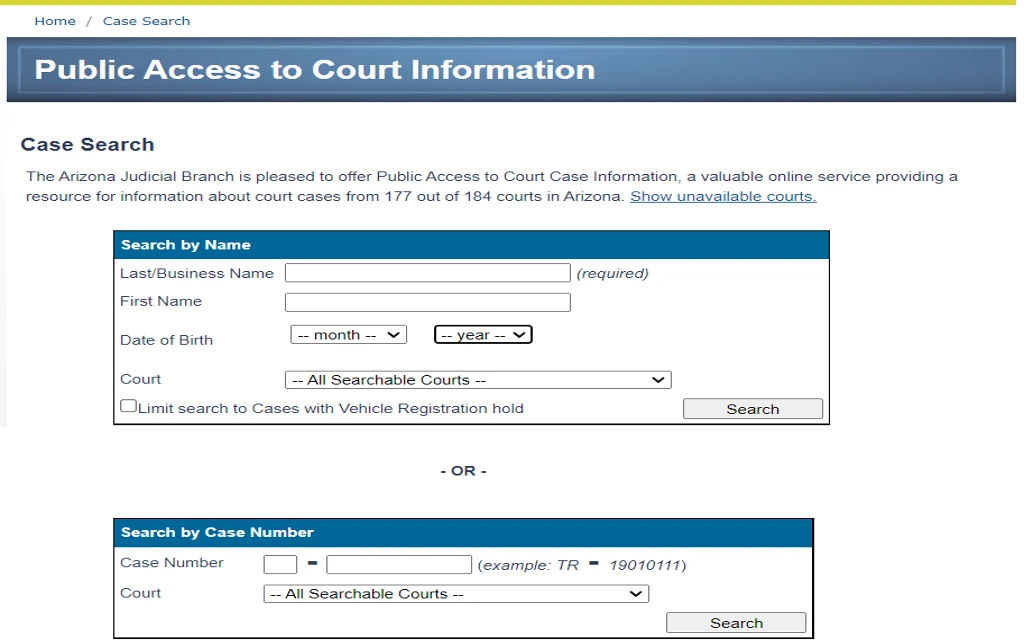 Site visitors can search by a person's name or company or by case number.
Anyone wanting to read Court of Appeals decisions can visit their Division One or Division Two website. Division One offers records of decisions in two categories: pre-2007 and 2007-today. Division Two allows users to search by case type or judge. They can also sign up for daily emails of appeals decisions.
The Supreme Court Opinions page has opinion/memo documents dating from 1998 to the present day. People can click on a document or locate one through its opinion search.
If people have questions or comments concerning obtaining public or private records, they can call the numbers on the Contact Us page. They can also use the AZ Courts Locator to find the appropriate court for their situation.
The US District Court of the District of Arizona has two locations where someone can research records: Phoenix and Tucson. Both courthouses offer microfiche indexes and public computer terminals for visitors to search case numbers.
They can even request inactive records that are shipped to Perris, California's Federal Record Center from the District Court's customer service. This service costs $64.00 by mail or in-person for the first package and $39.00 for extra boxes of records.
Arizona Inmate Records (Free Look Up)
There are more than 13,560 jail inmates in the state's jails. The prison population in Arizona is over 40,950.5
Inmate records in Arizona usually consist of ID numbers, sentence information, and parole status. Correctional facility staff can use these details to determine an inmate's eligibility for early release from jail or prison.
With that said, there are many free look-up tools residents can utilize if searching for a jail or prison.
How to Lookup Inmates in Arizona Jails
To look for an inmate in a county or city jail, a person can input the words "jail search inmate Arizona" into their preferred search engine. This brings up websites from sheriff's offices, police departments, and detention centers.
One of its results features the Navajo County Detention Center's inmate report. It shows inmate names, booking numbers, date of birth, and cell location. Site visitors can even download the list as a PDF file to look over at a later time.
VINE (Victim Information & Notification Everyday) is an excellent site for crime victims. By becoming a member, they can get notifications of an offender's whereabouts by phone, email, or text. Users can also access 24/7 support from VINE's toll-free number: (866)892-4542.
How to Search Inmates in Arizona Prisons
Interested parties can find state prisoners in any of the facilities operated by the ADC (Arizona Department of Corrections). It has a very simple offender search tool.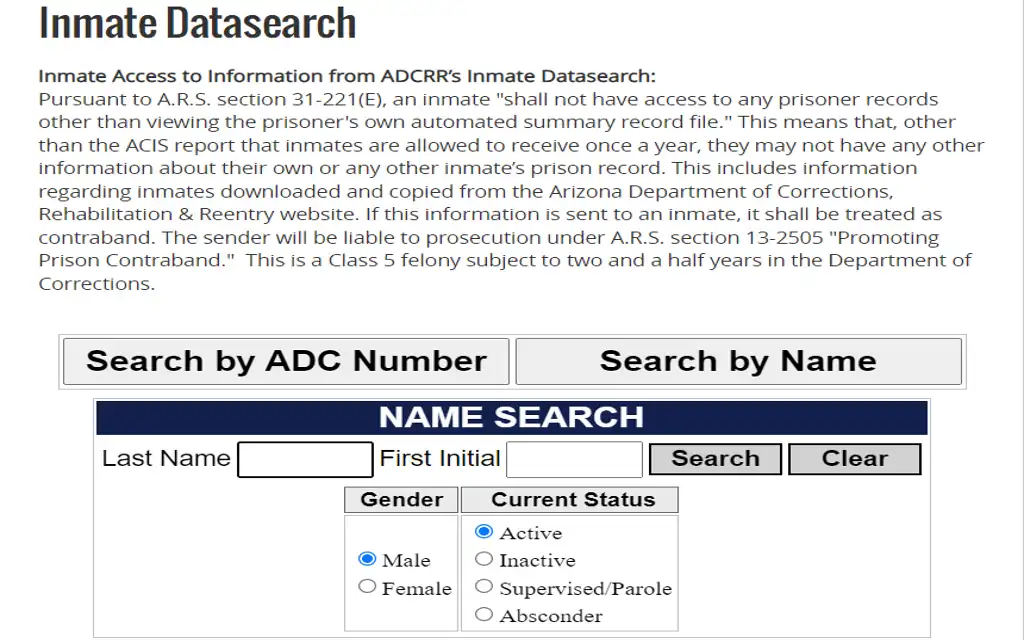 Users can search by an offender's ADC number or name. In addition, people can search by their gender or custody status.
Besides a search tool, the ADC provides an online record request application where they can retrieve inmate records. After creating their account and requesting their record, they pay a fee. (It's $0.50/page for paper records and $0.10/page for digital downloads.)
People can find federal inmates at the BOP (Federal Bureau of Prisons). Arizona is home to four federal prisons that individuals can contact to look for someone they know. They can also use the site's inmate locator, map, or search bar.
How to Search for Arizona Inmate Release Dates
Many inmates and their loved ones eagerly await parole day, particularly if it's been months or years since they last saw each other.  If someone wants to check an inmate's release date—especially if the subject is a prison inmate—they can consult the aforementioned ADC offender search tool where they can locate parolees by selecting the "Supervised/Parole" radio button.
Individuals can also conduct Internet research by entering the terms "Arizona inmate release date" into any search engine and contacting their local police department or sheriff's office. A result that comes up during this search is the Mesa Police Department Holding Facility. Residents should dial its number to obtain release information.
How to Visit & Send Money to Inmates in Arizona
Some people want to help their imprisoned loved ones in some way as they wait out their sentence. And what are better ways to support inmates than visiting them and providing monetary funds?
Visiting an Arizona Inmate
There are some guidelines prospective visitors have to adhere to before visiting an ADC prison. They first have to fill out an application, and then choose a paper or online format.
People also have to pay a background check fee of $25.00 as mandated by Department Order 911. (It's advisable for others to read Department Order 911 policies prior to their visit, too.) They can pay their fee with a cashier's check or money order, or electronically through JPay, Global Tel-Link, or Keefe. The application approval/denial process takes up to two months.
Sending Money to an Arizona Prisoner
If someone wants to send money to an ADC inmate, they can do so via money order, cashier's check, Keefe, JPay, or GTL:
Money order or cashier's check: Senders have to ensure money orders or checks include an inmate's name and ADC number. They need to be mailed to the below address:
ADC – Inmate Trust Sect.
1802 West Jackson St. No. 168
Phoenix AZ 85007
Keefe, JPay, or GTL: Individuals can deposit funds via the Web, an app, phone, or through participating stores. Transaction fees differ from method to method.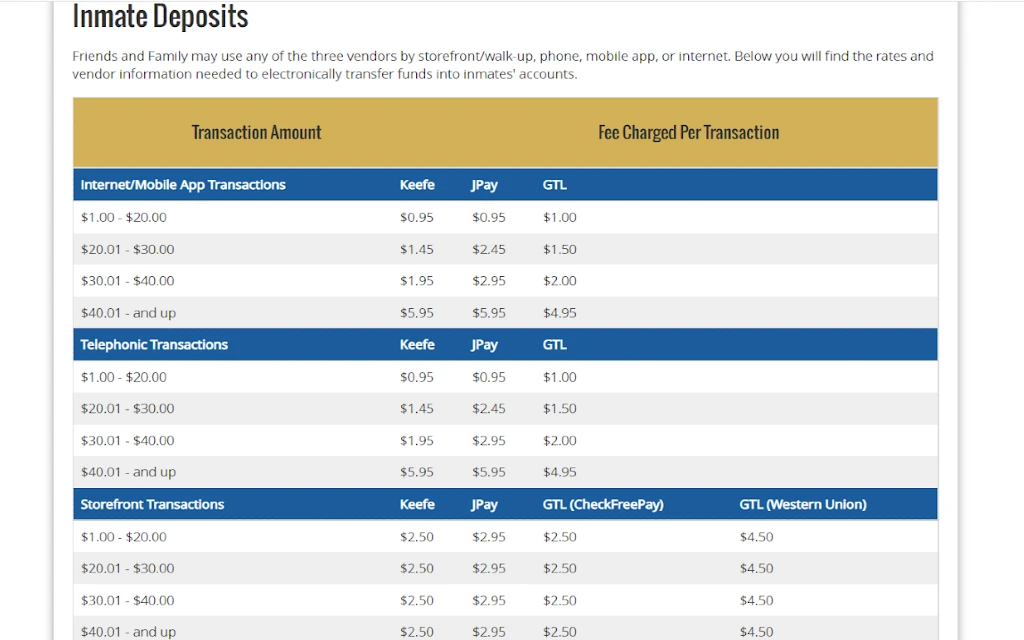 Arizona State Vital Record Search
Arizona vital records include stillbirth records, divorce records, fetal death records, birth records, marriage records, and adoption records. This section focuses on four vital records:
Divorce records
Marriage records
Birth records
Death records
Can Arizona Vital Records Be Found Online?
Some Arizona residents wonder if vital records can be bought online to save themselves the trouble of picking them up from an on-site location. The good news is that birth and death records can be purchased online through the Arizona Department of Health Services (DHS), Bureau of Vital Records. Unfortunately, the Arizona DHS doesn't hold marriage or divorce records.
To give readers an idea of how prevalent divorce is within the state, the following image shows the percentages of the divorced population in each Arizona county.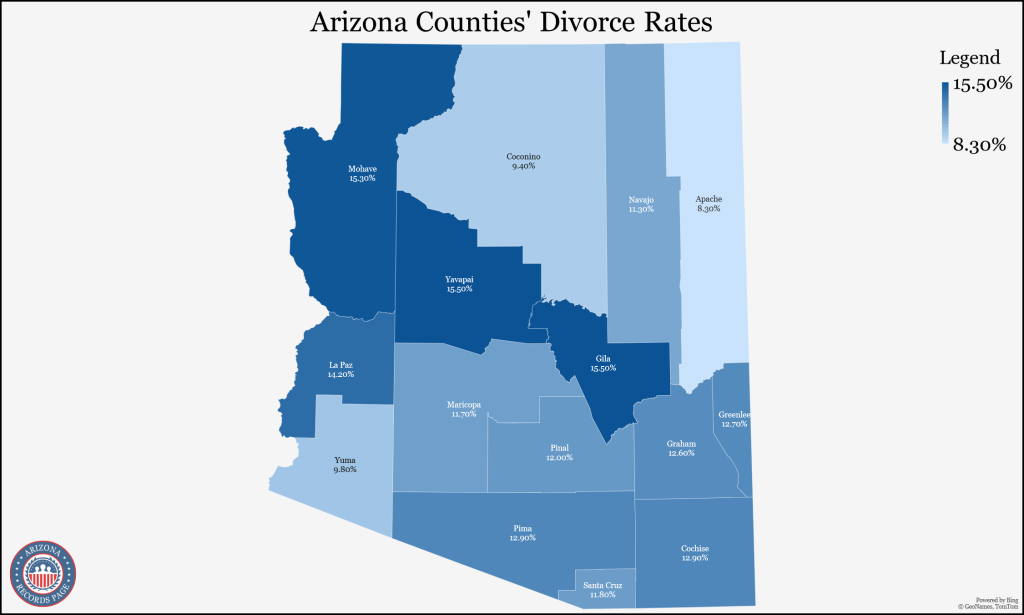 Furthermore, birth records have to be at least 75 years old, and death records need to be at least 50 years old for people to access them.6 Marriage and divorce records are public Arizona state records. However, someone can request the sealing of divorce records to protect bank information, children's identities, or domestic violence victims.7
How to Submit an Arizona Vital Records Request
Because marriage and divorce records aren't accessible through the Arizona DOH, interested parties have to go to the Clerk of the Superior Clerk where the marriage (or dissolution of marriage) took place.
The Arizona DHS allows patrons to purchase birth and death certificates online or by mail. (They can also buy certificates in person at their county's vital records office.) There are certain criteria a person has to meet before buying a birth or death certificate, though.
Interested parties have to be blood or adoptive relatives, power of attorneys, court-ordered representatives, government agents, or permitted by an eligible person to retrieve birth or death records. (The individual on the record has to be 18 or older to buy their own birth certificate.)
As previously mentioned, customers can obtain birth and death certificates by mail or from the Web. Certified copies of certificates cost $20.00. Below are the details behind each method:
Mail: Requestors are required to send an application to this address:
Arizona DHS
P.O. Box 6018
Phoenix AZ 85005
People can pay with a credit card, cashier's check, or money order. Plus, they can choose standard or express shipping. Additionally, they have to submit an application with their order:
Online: Arizona DHS is partnered with VitalChek to offer birth and death certificates. Patrons can also place a telephone order: (877)803-0609. It accepts all major debit and credit cards.
Anyone interested in viewing old birth or death certificates is welcome to use the Arizona Genealogy Record Search. Its database stores record that hail from the 19th to late 20th century.
Looking for government information can appear complicated, particularly for first-timers. But, once people take some time to learn about record hunting, they can use their newfound skills to find Arizona state records from both free and paid resources.
1Ballotpedia. (n.d.). Arizona Public Records Law. Arizona Public Records Law. 26 June 2022. Web. <https://ballotpedia.org/Arizona_Public_Records_Law>
2AZ Capitol Times. (2009). AZ High Court: Public Records Include Electronic Data. Yearly Archives, 2009. 26 June 2022. Web. <https://azcapitoltimes.com/news/2009/10/29/az-high-court-public-records-include-electronic-data/>
3National Freedom of Information Coalition. (n.d.). Arizona FOIA Laws. Arizona FOIA Laws. 26 June 2022. Web. <https://www.nfoic.org/arizona-foia-laws/>
4AZ Defenders. (2021). How to Find Criminal Records in Arizona. How to Find Criminal Records in Arizona. 26 June 2022. Web. <https://www.az-defenders.com/how-to-find-criminal-records-arizona/>
5National Institute of Corrections. (2019). Arizona 2019. 2019 National Averages. 26 June 2022. Web <https://nicic.gov/state-statistics/2019/arizona-2019>
6Arizona Department of Health Services. (2022). Arizona Genealogy Record Search. Genealogy. 27 June 2022. Web. <https://www.azdhs.gov/licensing/vital-records/genealogy/index.php>
7AZ Family Law Team. (2020). Are Arizona Divorce Records Available to the Public? Divorce Records. 27 June 2022. Web. <https://www.tucsondivorceattorney.co/divorce-records/are-arizona-divorce-records-available-to-the-public/>
8Arizona Department of Public Safety (AZDPS). (2017, July 17). New Fee Schedule for Department Records to be Implemented Immediately. Retrieved June 5, 2023, from <https://www.azdps.gov/news/releases/813>
9Maricopa County Sheriff's Office. (n.d.). Warrant Lookup. Retrieved June 5, 2023, from <https://www.mcso.org/i-want-to/warrant-lookup>
10Arizona Supreme Court. (2023). Public Access to Court Information. Case Search. Retrieved June 5, 2023, from <https://apps.supremecourt.az.gov/publicaccess/caselookup.aspx>
11Arizona Department of Corrections, Rehabilitation & Reentry. (2023). Inmate Data Search. Retrieved June 5, 2023, from <https://corrections.az.gov/inmate-data-search>
12Arizona Department of Corrections, Rehabilitation & Reentry. (2023). Inmate Deposits. Retrieved June 5, 2023, from <https://corrections.az.gov/office-chief-staff/constituent-services/inmate-deposits>